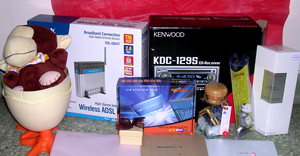 I just pass a very nice and touch birthday.. here I would like thanks to Esther, Miin, Miin's bf, Ben, Evon, Eric, Jesicca, C. Sze, P.Ling, Ricky, K.Yen, Yao, W.Ling, C. Chan and my Lui… they all no only give me a big present, they go to Port DIckson celebrate with me too, we have a steamboat dinner there. For those not able to Port DIckson: Benny, Ang, Teong, San.. thank you for the big present… although they cant attend, but they still wish me as well…

Besides this, Danny bought a wireless router for me, its really expensive of this present, so happy and surprise i get this, thank you, Danny!!
My lui lui (Audrey) prepare many things and buy me many presents… thanks lui… muack…. hehe…
Esther- She wrote down all our friendship history from year 1994till 2005 into many pieces paper, then put into a nice bottle and give me, esther sponsor me to May Day concert too.. haha… so good she are!
This year I got many presents I like, I got a 80GB external hard disk, Wireless router, car cd player, issey miyake perfume, a doll, necklace, concert ticket, 3 birthday cake and many many chocolates give my Audrey… hahaha… happy!
Tonight I will go to celebrate with another group…. haha…. actually I really no enough sleep this few days, because got many friends celebrate the birthday with me and make me so busy.. haha… besides, I also happy untill cant sleep… haha…I already 25 years old lo, quite old.. sub sub… maybe 2 more years no have such many friends pass birthday with me, but I wish they can do it for my every birthday!…. hahaha… so greedy i am.