Where you usually go on Wednesday? As I know got many places got ladies night or special price on every Wednesday, of course I wont only stay at home that day, I will join friends to TGV to watch movie. I like watch movie so much, every Thursday got new movie to show, but we wait untill second weeks to watch. Wednesday movie tickets is cheaper, thats only rm6 for Klang TGV, worth right? But quite hard to book and buy it, i have to book on monday just can get a nice place. Although I like to watch movie, but i scare to watch horror movie, haha.. dun't laugh me ya….
Yesterday I just watched "Madagascar", erm… a bit disappointed of their 3D animation, anyway is quite funny also.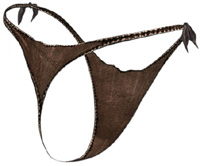 My friend Benny Big day (birthday) on yesterday too, after movie we go to Redspot celebrate with him. We bought a pantie for him as present, hahaha… is very funny!! We use DV to record it too… show you all next time.