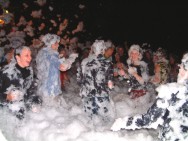 Last few days, Audrey, Miin, Susan, Sharon, Wai Ling and me went to Foam Party at the Liquid Pub, KL. This is first time i join this kind of party, Miin ask me before wanna join or not, the ticket is rm35 each, but that time i feel no interest of it. After that i heard many friends mention this party quite fun and enjoy, so I keep "drag" Audrey go with me, but this time no more rm35 tickets, only got rm45… too bad…
Audrey and me wear jeans and t-shirt to attend this party, when we met miin them, we was shock, why they only wear short pant and sliper? Oh no… why no ppl tell us about that? Luckily we bring short pant along too, so we change the clothes in the car :p then enter to the pub…
Wow… now i know this is call foam party…. a machine keep spray out the foam to the dancing floor, all girls are dancing and enjoy there. Yup!! all girls… no guys can join this party for that night.. haha… many girls wear sexy wear too, like bikini, bra top… etc.. hehe…really wasted guy cant enter in right? Haha….
Miin keep pull me to below the foam machine, make me whole body full of foam; Audrey also, accidently push me down to the floor…

…. oh… is totally wet with foam!!! Of course I'll revenge and make them wet too… yeah!!… haha… Maybe this is first time i join foam party.. that really special for me and I very enjoy there. I will ask more friends to join on next year… interest of it?